DESIGNER MAKEUP TOOLS - ELEMENTWO FOUNDATION GIVEAWAY
WIN AN ELEMENTWO LIQUID FOUNDATION PACK
WITH 2 X LIQUID FOUNDATION AND 2 X BEAUTY PODS
How to enter for your chance to win?
1. Like our Facebook Page - https://www.facebook.com/DesignerMakeupToolsAustralia/
2. Subscribe to our newsletter using the form below. When you hit submit, a new window will open confirming your submission. A confirmation email will be sent to your inbox as soon as you hit submit.
3. Confirm your email address and we will send you a thank you email to confirm your entry.
The winner will be announced in our newsletter on the 15th of July, 2017. Make sure you check your inbox to see if you are the lucky winner.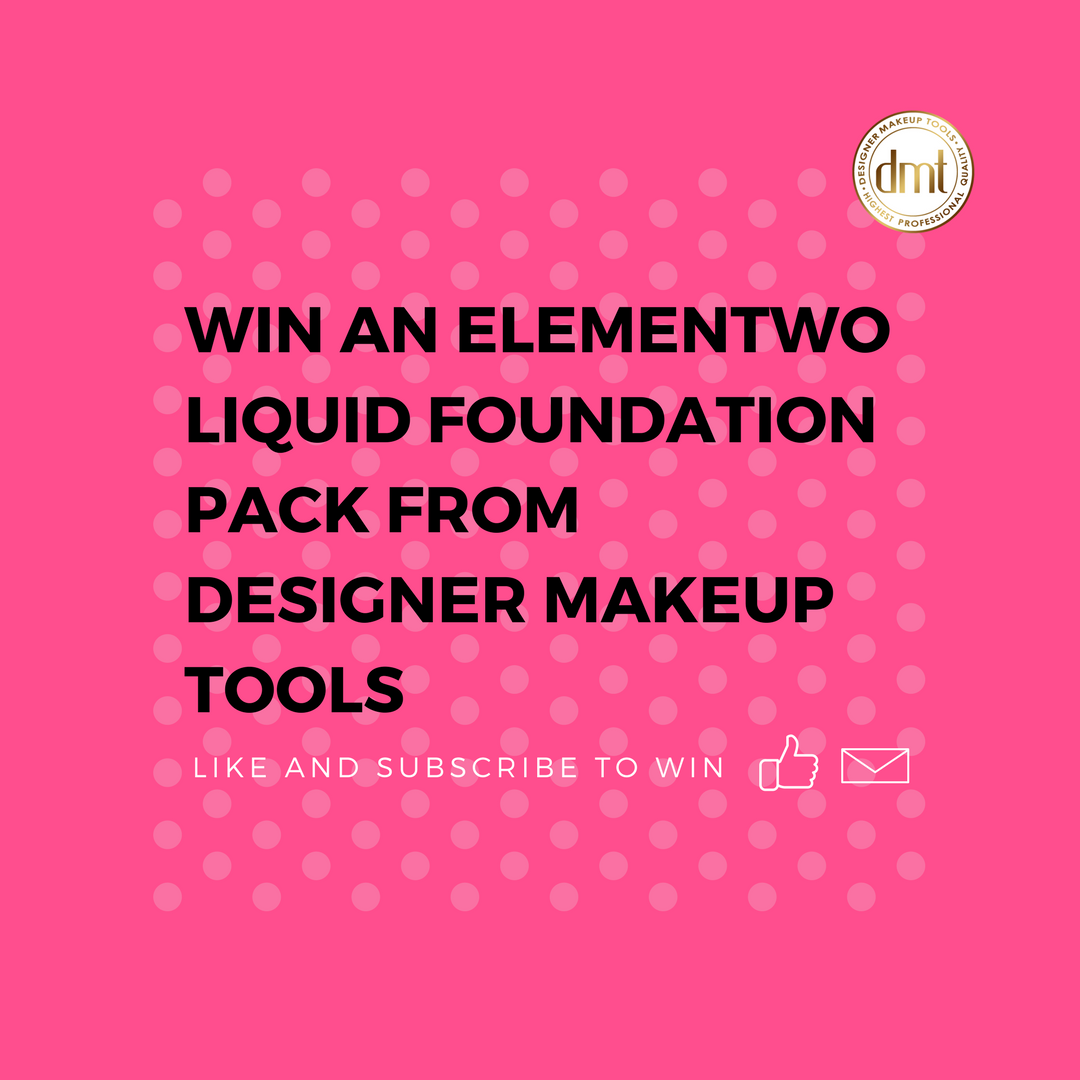 DESIGNER MAKEUP TOOLS - ELEMENTWO FOUNDATION GIVEAWAY
Terms and Conditions
Your entry into DESIGNER MAKEUP TOOLS -ELEMENTWO FOUNDATION GIVEAWAY Competition
("the competition") is deemed acceptance of the following Terms and Conditions. Information on how to enter this competition and the prize(s) form part of these Terms and Conditions.
Who Can Enter:
1. The competition is open to Australian residents aged 18 years and over.
2. Employees and immediate families of Designer Makeup Tools ("thepromoter") and associated agencies are not eligible to enter the competition. Immediate family includes: spouse, ex-spouse, defacto spouse, child or step-child (including by adoption), parent, step-parent, grandparent, stepgrandparent, uncle, aunt, niece, nephew, brother, sister, step-brother, stepsister or first cousin.
3. By entering thecompetition you warrant that you meet the entry requirements detailed in the Terms and Conditions and accept all conditions therein.
4. The promoter reserves the right, in its sole discretion, to disqualify any individual deemed by the promoter to have breached any of the competition Terms and Conditions or engaged in unlawful or improper misconduct compromising the fair and just runningof the promotion.
5. The promoter reserves the right to verify the validity of any entry or individual entering the competition at any time.
How to Enter:
6. The competition commences on 4 July 2017 at 15:00 AEST and closes on 15 July 2017 at 18:00 AEST ("the competition period").
7. Entries must be received within the competition period.
8. To enter the competition, eligible individuals must:
a) Like our Facebook Page (if you do not already)
b) Visit http://www.designermakeuptools.com/ELEMENTWO-FOUNDATION-GIVEAWAY
c) Enter your email address and confirm your submission via email
9. Multiple entries are not permitted and may be disqualified. A maximum of one (1) unique entry per person is permitted in total.
10. Late, incomplete, indecipherable, discriminatory or otherwise offensive entries will be deemed invalid.
The Prize
11. The prize ("theprize") comprises of:
- 2 xElementwo Liquid Foundation - Your choice of colour from 2, 3, 4, 5 and 6
- 2 x Beauty Pods
- Free delivery of competition prizes
12. Additional costs and any other ancillary cost resulting from acceptance of the prize thatare not stated as inclusions are not included as part of the prize and are the responsibility of the prize winner.
13. The total prize pool is valued at $127.90 AUD. The prize or any portionthereof, is not transferrable or exchangeable and cannot be taken as cash, unless otherwise stated or agreed by the promoter. No compensation will be offered if the prize winner is unable to take the prize as stated.
14. The prize is subject to availability at the time of booking. The promoter reserves the right to substitute any portion of the prize for an alternative of equal or greater value in accordance with licensing and state regulations.
The Prize Draw and Judging Process
15. The prize draw will take place at Designer Makeup Tools in Kunda Park, Queensland 4019 on 17 July 2017 at 10:00 AEST.
16. Thepromotor will review all eligible entries and select one (1) winning entry ("winning entry"). Determination of the winning entry shall be made by at random. Such determination shall be final and binding.
17. The prize winner will be notified via email within 24 hours of the draw date. Upon acceptance of the prize, the prize winner's name will be published on Designer Makeup Tools Facebook Page (https:// www.facebook.com/designermakeuptoolsaustralia) and Instagram account (https://www.instagram.com/dmt_designermakeuptools)
18. The prize must be claimed by the prize winner within three (3) days of being notified.
19. If for any reason, the prize winner does not claim their prize within the specified period, the prize will be forfeited and a redraw will be conducted to determine a valid prize winner.
20. The promoter's decision is final and no correspondence will be entered into.
21. Please note that Designer Makeup Tools Terms and Conditions may apply with regards toredemption
of the prize.
Liability and Release
22. Your entry into the competition, confirms that you own all necessary rights to provide the intellectual property constituting your entry.
23. As a condition of entering the competition, you hereby grant thepromoter, the supplier and their affiliates irrevocable, royalty-free rights to reproduce, modify and republish any material created as a result of entry into the competition, including but not limited to your competition
entry, photographs, sound recordings and video recordings and acknowledge you will not be entitled to any fee for such use.
24. Nothing in these Terms and Conditionslimits, excludes or modifies or purports to limit, exclude or modify the statutory consumer guarantees as provided under the Competition and Consumer Act, as well as any other implied warranties under the ASIC Act or similar consumer protection laws in the States and Territories of Australia.
25. This promotion is in no way sponsored, endorsed or administered by, or associated with, Facebook and/or Instagram.
Personal Information
26. Any personal information submitted to the promoters will be held in accordance with the Privacy Act. The promoter reserves the right to disclose personal information of entrants to the supplier and its affiliates assisting with the running of the competition.
27. Personal information collected during the competition period may be used for direct marketing purposes.
28. All personal information will be handled in accordance with the promoter's Privacy Policy available here http://www.designermakeuptools.com/privacy_policy
Promoter Information
29. The promoter is Designer Makeup Tools ABN 26 082 341 615 of Unit 2, 5Kessling Ave, Kunda Park QLD 4556 Australia. You can contact the promoter at orders@designermakeuptools.com.au